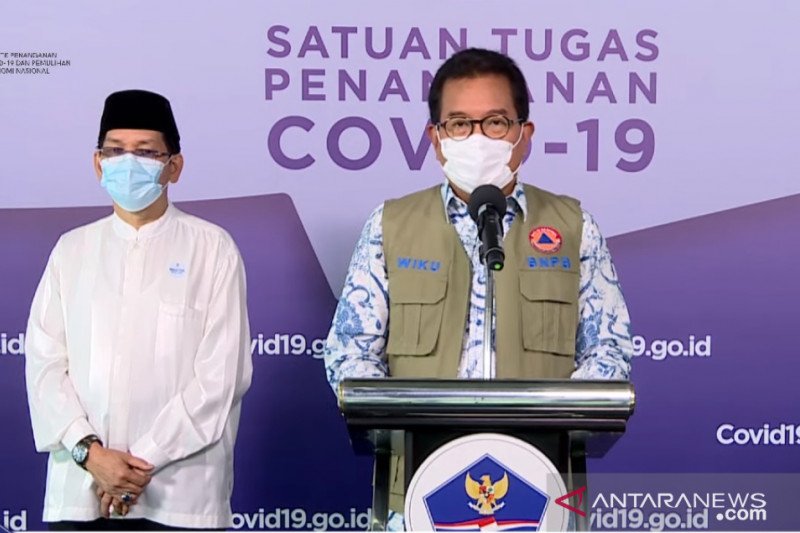 Jakarta (ANTARA) - Government spokesman for COVID-19 handling Prof. Wiku Adisasmito urged the people to comply with the ban on the Eid al-Fitr homecoming exodus to avoid a spike in COVID-19 cases following the long holidays.
"As I have repeatedly stated that the long holidays have led to an increase in (COVID-19) cases since last year," Adisasmito stated during a press conference at the National Disaster Mitigation Agency (BNPB) Building in Jakarta on Friday.
To this end, the government bans homecoming activities between May 6 and May 17, 2021, and restricts domestic mobility of people two weeks prior to and after the homecoming ban period, he explained.
"The government is focused on ensuring that the Ramadhan and Eid al-Fitr celebrations do not trigger a spike in COVID-19 cases thereafter," he emphasized.
During the press conference, Secretary General of the Indonesian Ulemas Council (MUI) Amirsyah Tambunan noted that the council, along with other mass organizations, will continue to encourage literacy, dissemination of information, and education on the significance of following health protocols.
"By prioritizing health protocols, we will feel comfortable and secure and will have contributed to the public to prevent the transmission of COVID-19," he affirmed.
Tambunan highlighted that following health protocols was crucial and part of religious service.
Field epidemiologist at Jenderal Soedirman University Purwokerto, Dr Yudhi Wibowo, supports the ban on homecoming activities to celebrate Eid al-Fitr 2021, calling it a strategic policy to thwart an increase in COVID-19 cases.
"The policy of prohibiting homecoming activities is very strategic to reduce population mobility. The aim is very good, solely to prevent a spike in cases and deaths due to COVID-19," he remarked here on Friday.
Wibowo reminded that despite a ban on homecoming activities, Ramadhan worship can still be performed properly.
"Eid al-Fitr can still be celebrated with virtual meetings, especially for today, with many technologies that make it easier for people to stay in touch with each other virtually," he remarked.
Hence, the momentum of Eid al-Fitr can still be celebrated by meeting virtually to apologize to one another.
Related news: MUI stresses on public compliance to homecoming exodus ban

Related news: Homecoming ban averts spiraling of COVID-19 cases: epidemiologist
Reporter: H-SHT
Editor: Gusti Nur Cahya Aryani
Copyright © ANTARA 2021