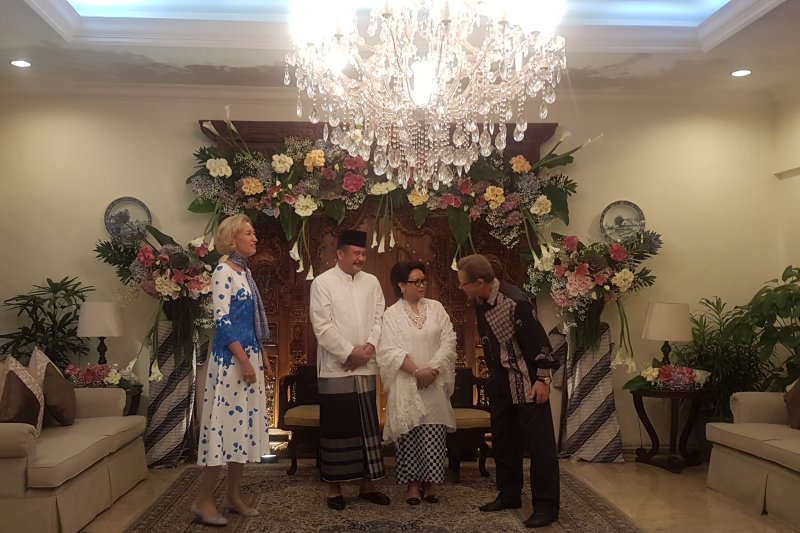 Jakarta (ANTARA) - Foreign Minister Retno Marsudi urged the people at large in Indonesia and Indonesian communities abroad to make the Eid al-Fitr festivity a momentum to continue to combat and win their fight against COVID-19.
"On this day of victory, let us enhance our commitment to being part of the solution," the minister stated in a video of her extending congratulations on the occasion of Eid al-Fitr on Thursday.
The Eid al-Fitr festivity, which marks the end of the holy month of Ramadhan, is celebrated by Muslims across the globe.
The celebration of the Eid al-Fitr festivity was expected to be the last time during the pandemic situation, Marsudi remarked.
The minister stressed that her message for the prevention of COVID-19 was not only directed to those in Indonesia but also to all members of Indonesian communities abroad.
Related news: Minister Mahfud MD invites people to expand brotherhood
They are necessitated to continue to follow the COVID-19 health protocols and policies of the governments in countries where they live or work, she remarked.
While caring for personal safety and Indonesia's good image in foreign countries, Marsudi also urged them to persevere to uphold the spirit of national unity among themselves.
"Maintaining the spirit of solidarity and bonds of friendship among Indonesians while staying abroad is so important amid this pandemic situation," she affirmed.
Traditionally, the Idul Fitri festivity is often regarded by Indonesian Muslims as a time to seek blessings and forgiveness from parents and to strengthen "silaturrahim".
However, in the wake of the COVID-19 pandemic situation, Vice President Ma'ruf Amin had earlier called on Indonesian Muslims to uphold the "silaturrahim" or the bonds of friendship virtually.
Amin also urged the people at large in the country to continue the nation's collective fight against the COVID-19 pandemic by reducing their mobility for the safety of all.
"We do not want the endeavors that we have made over this past year to go in vain. Of course, the safety of our beloved must be prioritized and maintained together," he emphasized.
Related news: No Idul Fitri prayer held at Taipei Travel Plaza: PCINU
Amin highlighted the significance of keeping the spirit alive since behind any hardship, there is always relief.
The novel coronavirus disease outbreak initially struck the Chinese city of Wuhan in 2019 and then spread to various parts of the world, including countries in the Asia-Pacific region.
The Indonesian government announced the country's first confirmed cases on March 2, 2020.
Since then, the central and regional governments have made persistent efforts to flatten the coronavirus curve by imposing healthcare protocols and social restrictions.
To break the chain of transmission of COVID-19, which has impacted the purchasing power of scores of families in Indonesia, the government has banned homebound travel, or "mudik," ahead of this year's Idul Fitri holiday season akin to last year.
The Health Ministry has also confirmed the entry of three new coronavirus variants into Indonesia, including those originating from India, South Africa, and the Great Britain. (INE)
Related news: COVID-19 forces change in Indonesia's Ramadhan, Idul Fitri traditions
Reporter: R013
Editor: Yuni Arisandy Sinaga
Copyright © ANTARA 2021