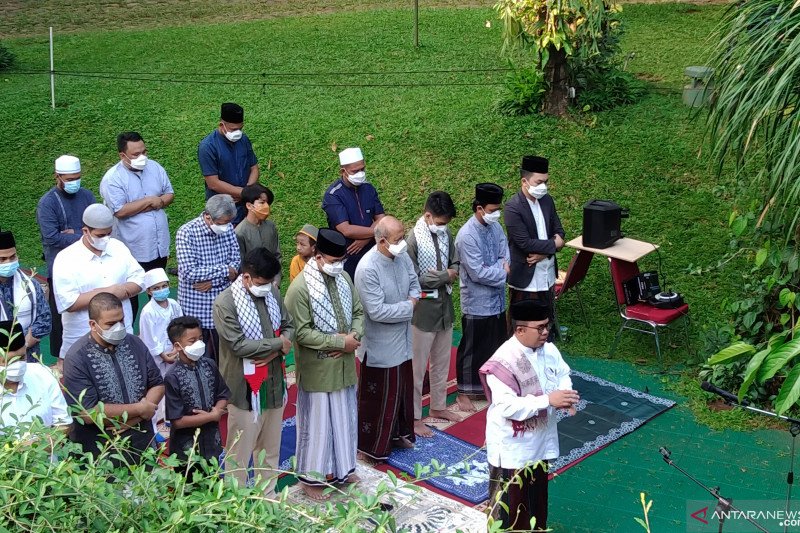 Jakarta (ANTARA) - Jakarta Governor Anies Baswedan performed the Eid al-Fitr prayer in the backyard of his house in the Lebak Bulus neighborhood, South Jakarta, on Thursday morning.
Starting at 7 a.m. Western Indonesia Time (WIB), some 30 people, including Baswedan's wife and children, were present during the prayer, which was led by Ustadz Afifudien Rohaly.
Following the prayer, conducted under strict COVID-19 protocols, Rohaly delivered the Idul Fitri sermon.
Amid the coronavirus disease pandemic, Baswedan had earlier appealed to Muslims living in the capital city to perform the Eid al-Fitr prayer at home.
If Jakartans were keen to offer prayers at mosques, Baswedan urged them to visit the house of worship in the areas of their community units.
The capacity of mosques and soccer fields used for performing the Eid al-Fitr prayer must be reduced by up to 50 percent, he remarked.
The Eid al-Fitr festivity, marking the end of the holy month of Ramadhan, is celebrated by Muslims across the globe.
Traditionally, the Eid al-Fitr festivity is often regarded by Indonesian Muslims as a time to seek blessings and forgiveness from parents and to strengthen "silaturrahim," or the bonds of friendship.
However, in the wake of the COVID-19 pandemic situation, Vice President Ma'ruf Amin had earlier called on Indonesian Muslims to uphold "silaturrahim" virtually.
Amin also urged the people at large in the country to continue the nation's collective fight against the COVID-19 pandemic by reducing their mobility for the safety of all.
"We do not want the endeavors that we have made over this past year to go in vain. Of course, the safety of our beloved must be prioritized and maintained together," he emphasized.
Amin highlighted the significance of keeping the spirit alive since behind any hardship, there is always relief.
The novel coronavirus disease outbreak initially struck the Chinese city of Wuhan in 2019 and then spread to various parts of the world, including countries in the Asia-Pacific region.
The Indonesian government announced the country's first confirmed cases on March 2, 2020.
Since then, the central and regional governments have made persistent efforts to flatten the coronavirus curve by imposing healthcare protocols and social restrictions.
To break the chain of transmission of COVID-19, which has impacted the purchasing power of scores of families in Indonesia, the government has banned homebound travel, or "mudik," ahead of this year's Eid al-Fitr holiday season akin to last year.
The Health Ministry has also confirmed the entry of three new coronavirus variants into Indonesia, including those originating from India, South Africa, and the Great Britain.
Related news: Minister urges Muslims to perform Eid al-Fitr prayer at home
Related news: Skip Eid prayer if coronavirus continues unabated: MUI to congregants
EDITED BY INE
Reporter: R013
Editor: Suharto
Copyright © ANTARA 2021