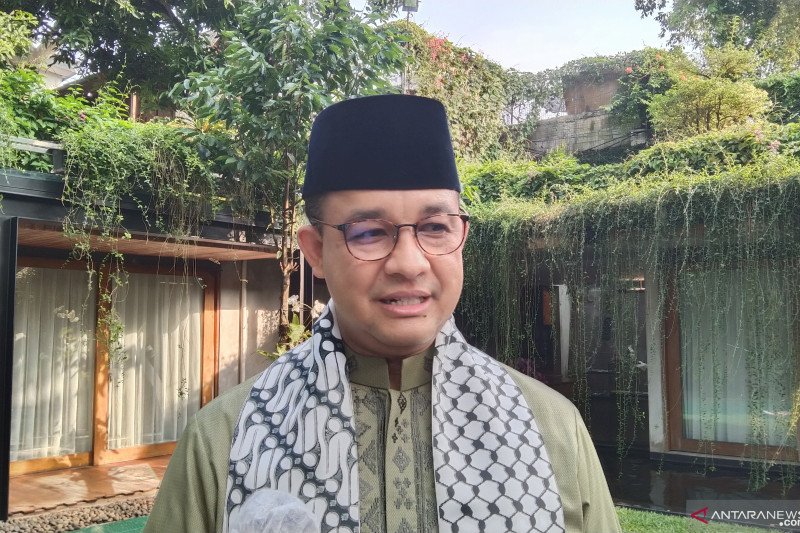 Jakarta (ANTARA) - Jakarta Governor Anies Baswedan confirmed to have suspended the open house during Eid al-Fitr in the wake of the COVID-19 pandemic.
"No open house. The regulation says so, no 'halal bihalal (post-Eid gathering) in an attempt to curb the COVID-19 transmission," Baswedan remarked after performing the Eid al-Fitr prayer at home in Lebak Bulus, Jakarta, on Thursday.
To maintain relations, or silaturahmi, with friends during Eid al-Fitr, Baswedan spoke of his intent to conduct virtual meetings.
The governor has additionally planned to organize online meetings with colleagues and co-workers on Monday (May 17).
"Let us be with our families at this time. On next Monday, we will organize virtual meetings with co-workers and colleagues. Let Thursday, Friday, and Saturday be the days intended to spend with family," he highlighted.
As earlier reported, Baswedan issued Exclamation No. 5 of 2021 on the celebration and guidance for ensuring a safe and secure Eid al-Fitr 2021 at home.
In the exclamation, he urged Jakartans to continue to adhere to the health protocols, such as wearing a mask, maintaining physical distance, and avoiding crowds.
The governor also appealed to people to perform the Eid prayer at home. They are allowed to perform the Eid prayer outdoors as long as they can meet the requirement of 50 percent of the maximum capacity under the defined health protocols.
Moreover, he suggested Jakartans to stay at home and suspend "halal bihalal," or face-to-face gathering.
The grave pilgrimage was also suspended on May 12-16, 2021, and the takbiran parade on the eve of Eid al-Fitr should be conducted virtually at home.
If "malam takbiran" was conducted at the mosque, or mushala (small mosque), it is restricted up to 10 percent of the maximum capacity.
Furthermore, shopping centers, malls, cafes, restaurants, food stalls, and cinemas are allowed to operate up to 9 p.m. local time, at 50 percent of the maximum capacity, except those in the orange and red zones where operations were halted.
Tourism spots and amusement parks are allowed to operate up to 9 p.m. local time, at 30 percent of the maximum capacity, barring those in the red and orange zones where operations have been temporarily halted.
Related news: Baswedan performs Eid al-Fitr prayer at home under COVID-19 protocols
Related news: Eid offers momentum to exercise self-control to prevent COVID-19
EDITED BY INE
Reporter: J010
Editor: Suharto
Copyright © ANTARA 2021