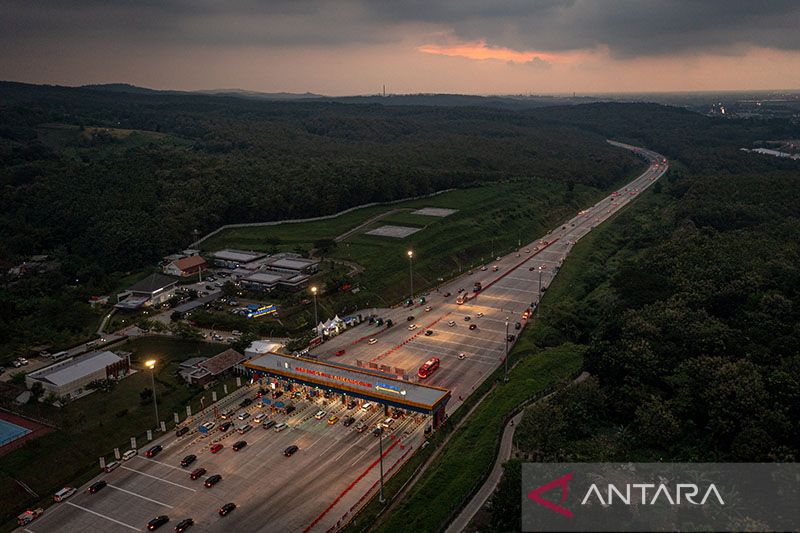 Jakarta (ANTARA) - The establishment of the Trans Java and Sumatra toll roads has had a positive impact on travelers participating in the 2022 Eid al-Fitr exodus, Transportation Minister Budi Karya Sumadi has said.
As the toll roads can cut travel time, their establishment increased people's enthusiasm to join the exodus, especially since they had been prohibited from doing so in 2020 and 2021 due to a surge in COVID-19 cases, he noted here on Tuesday.
"The public seemed to prefer making the trip by road, especially using private vehicles," he added.
According to data from the Transportation Ministry, 47 percent of the total private exodus vehicles originated from the Greater Jakarta (Jabodetabek) area, which includes Jakarta, Tangerang District, Tangerang City, Depok City, Bogor City, Bogor District, Bekasi City, and Bekasi District.
"We also note that in the Greater Jakarta area, there has been an increase in the utilization of toll roads of around 11.8 percent," the minister stated.
Earlier on Tuesday, or D+7 of the Muslim holy day, he officially closed the operation of the 2022 Eid al-Fitr Transportation Integrated Post since exodus activities have significantly declined.

Related news: Trans Sumatra toll road project`s first phase to cover 323.8 km
Furthermore, the ministry will evaluate the implementation of the Eid al-Fitr transportation service this year.
The ministry will ask the head of the Transportation Policy Agency to conduct research on exodus activities.
The results of the evaluation will be reported to President Joko Widodo and will be followed up to improve national transportation facilities and infrastructure as well as to gain an understanding of people's exodus patterns.
Furthermore, Sumadi said that there has been a decrease in the number of people traveling by motorbike during the 2022 exodus.
He lauded the community for complying with the government's appeal to refrain from making long journeys on two-wheeled vehicles.

Related news: Construction of Trans-Sumatra Toll Road finally begins
Reporter: KR-UY
Editor: Rahmad Nasution
Copyright © ANTARA 2022