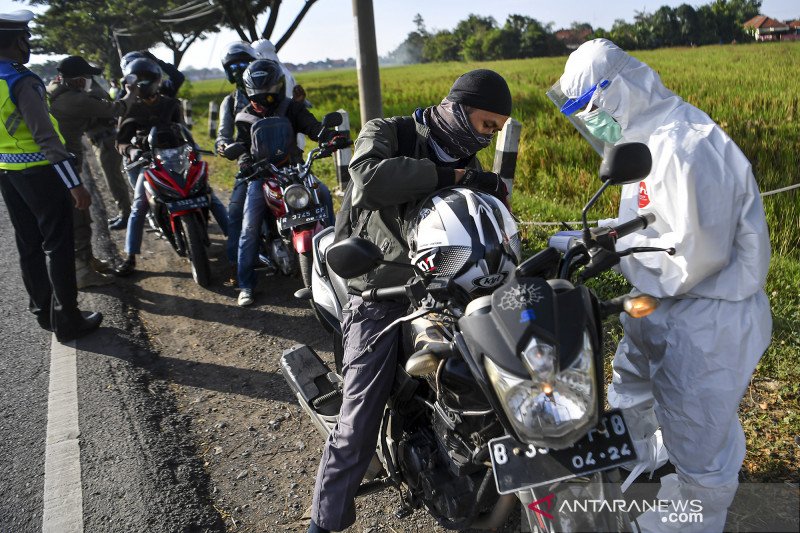 Bogor, W Java (ANTARA) - The coronavirus pandemic is changing how Idul Fitri festivities take place in Indonesia this year, with the rising infections forcing the government to ban homebound travel, which is locally known as "mudik".
For decades, millions of Indonesians, particularly those living and working in Jakarta's metropolitan areas, have embarked on an annual exodus one week or several days before the Idul Fitri celebrations.
However, this year, many people have had to shelve plans for the traditional homecoming to participate in celebrations marking the end of the fasting month of Ramadhan as the government has temporarily banned travel to break the chain of COVID-19 transmission and keep contagion areas from expanding.
Given the current situation, and in view of personal and public safety, it would perhaps be wise not to embark on "mudik". Ignoring the government's ban on homebound travel could potentially create problems for people and their loved ones.
The Indonesian Transportation Ministry has enforced a temporary ban on public transportation, private vehicles, and motorbikes for "mudik" since April 24, 2020.
However, the movement of logistics service providers, drugs, officers, fire engines, ambulances, and hearses has been excluded from the ban.
Public and private vehicles as well as motorbikes are currently banned from entering and departing from regions enacting Large-Scale Social Distancing (PSBB) measures and regions demarcated as COVID-19 red zones, such as Jakarta, Bogor, Depok, Tangerang, and Bekasi.
The ban will be in effect until May 31, 2020, for land transportation; June 15, 2020, for railway transportation; June 8, 2020, for sea transportation; and June 1, 2020, for air transportation.
To enforce the travel ban, the National Police have set up checkpoints across Java and Sumatra, two islands with a high potential number of homebound travelers.
Meanwhile, the Jakarta Metropolitan Police have set up checkpoints at Bitung for blocking vehicles carrying homebound travelers to Merak and at Cikarang Barat for those heading to Cikampek.
In Central Java, police are blocking the flow of cars and motorcycles coming from outside the province at 13 checkpoints.
According to Central Java Police spokesperson Sen.Coms. Iskandar F. Sutisna, policemen are screening vehicles coming from outside Central Java before allowing them to continue their trip.
All over Central Java, 277 security and surveillance checkpoints have been set up for the purpose. On the Trans-Java toll road section, two checkpoints have been set up at the Pejagan and Sragen exit toll gate to stop cars carrying homebound travelers.
Homebound travelers arriving from Jakarta and Bandung (West Java) have been screened at the Pejagan exit toll gate, while those traveling from Surabaya (East Java) have been checked at the Sragen exit toll gate, Sutisna recently told local journalists.
Meanwhile, director of Central Java Police's Traffic Division, Sen. Coms. Subandriya, said earlier that police will turn back vehicles arriving from West Java, Yogyakarta, and East Java, but would not close the Trans-Java Toll Road.
Police officers would thoroughly check incoming cars, he informed.
"If they are categorized as homebound travelers, they will be urged to turn back," he stated, adding that police will first check cars at the Pejagan toll road section and then again at the Brebes Timur Toll Gate.
To this end, the Central Java Police is coordinating with police precincts near the toll road and non-toll road sections, such as Cilacap and Brebes, to monitor vehicles heading to and coming from West Java, Magelang, and Prambanan, which share borders with Yogyakarta, as well as Wonogiri, Sragen, Blora, and Rembang, as a precautionary measure to handle the flow of vehicles from and to East Java.
Those homebound travelers who do manage to pass through checkpoints and arrive safely in their hometowns would not automatically be free from social sanctions.
They are very likely subject to the regional governments' compulsory quarantine policy. The East Java provincial government, for instance, has imposed a14-day mandatory quarantine on all arrivals.
The East Java provincial government is sending those arriving from abroad and other parts of Indonesia for 14-day quarantine at observation centers across the province.
East Java Governor Khofifah Indar Parawansa has revealed, around 7,387 villages and neighborhoods in East Java have set up observation rooms, where homebound travelers can be quarantined,
In view of the possible hurdles that may hamper a trip home and the potential risk it can pose to families, neighbors, and other community members in the hometown, refraining from "mudik" seems a sound option.
Staying away from hometowns and foregoing physical contact with parents, relatives, and friends during Idul Fitri festivities, which are expected to fall on May 24, 2020, would not weaken the spirit of "silaturrahim" (Islamic brotherhood).
Physical distance is no longer a barrier to maintaining close relations in this digital era, and the spirit of "silaturrahim" can still be preserved by contacting friends and families over phone, WhatsApp, and teleconferencing platforms such as Zoom.
With people opting to stay at home and not joining the annual exodus prior to and during the Idul Fitri holiday season amid the COVID-19 pandemic, the government's endeavors to flatten the curve of coronavirus cases have gotten a boost.
The government alone cannot contain COVID-19. Flattening the curve requires participation from the people at large and upholding the spirit of "gotong royong", or mutual cooperation.

Related news: Impact of COVID-19 on the tradition of 'mudik' in Indonesia

Related news: Government to punish civil servants violating 'mudik' ban
If the majority of Indonesians uphold the spirit of "gotong royong" and maintain strict discipline in the fight against the coronavirus, Indonesia's COVID-19 situation may likely improve in June and July this year.
"Insya Allah (with God's willing), in June and July, all things will get better than now," the government's spokesperson for COVID-19 task force, Achmad Yurianto, said during a virtual press conference in Jakarta on May 4, 2020.
The spirit of "gotong royong", strict discipline, and persistence are indispensable in the fight against the coronavirus outbreak because they will help Indonesia to emerge out of the pandemic.
Not joining this year's annual exodus for Idul Fitri festivities would reflect our discipline and the spirit of "gotong royong" and bring Indonesia closer to flattening the COVID-19 curve.
(INE)
Related news: Police intensify patrol to preserve public order amid pandemic

Related news: COVID-19 forces change in Indonesia's Ramadhan, Idul Fitri traditions
EDITED BY INE
Reporter: R013
Editor: Fardah Assegaf
Copyright © ANTARA 2020