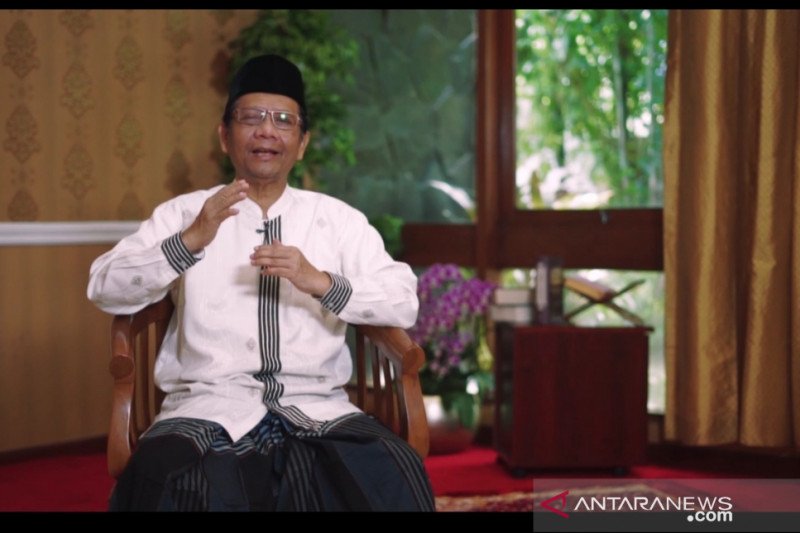 Jakarta (ANTARA) - Coordinating Minister for Political, Legal, and Security Affairs Mahfud MD has called on Muslims across the nation to perform the Idul Fitri 1441 Hijri prayer at home.
"During the COVID-19 pandemic, let us perform the Eid al-Fitr prayer and conduct the halal bi halal (post-Eid al-Fitr gathering) at home, with a limited number of people," Mahfud MD stated in Jakarta on Friday.
The minister remarked that other Islamic organizations, including the Indonesian Ulema Council (MUI), Muhammadiyah, and Nahdlatul Ulama (NU), have made the call to people to pray at home.
The minister affirmed that the call to pray at home was not only applicable in Indonesia but also in Saudi Arabia.
"The holy mosque in Mecca and Medina, Grand Mosque, and Nabawi Mosque were also closed to safeguard Muslims from the spread of COVID-19," he remarked.
To this end, Mahfud has invited Muslims to solemnly perform the Eid al-Fitr prayer at home.
"The post-Eid al-Fitr gathering does not have to be crowded but can also be done virtually, or if meeting with the main family is obligatory, then to limit time and maintain a safe distance," Mahfud expounded.
Vice President Ma'ruf Amin had earlier emphasized to desist from conducting worship activities, including prayers in congregation, during the COVID-19 pandemic, especially in areas declared as red zones.
"We should worship at home, i.e. the tarawih prayers, reading Qur'an at home. Worship activities in the red zone should not be performed in a mosque in congregation," Amin stated.
Amin is fully sentient of the fact that worship in congregation will reap huge rewards, though during the current COVID-19 pandemic, such activities would cause harm if they were to be continued.
"At the moment, we are in an apprehensive situation. Indeed, there is a lot of merit in congregation, but there is danger," Vice President Amin, concurrently the non-active chairperson of the Indonesian Ulema Council (MUI), remarked.
Amin further expounded that the appeal to not worship in congregation during the pandemic incorporated suggestions from the Prophet Muhammad, who stated that Muslims must not hurt themselves and others.
Worshiping in congregation during a pandemic is akin to increasing the risk to the community and other Muslims.
"Reciting Qur'an, performing iktikaf (a period of staying in a mosque) during the last 10 days of the holy month in the mosque can potentially raise the risk of COVID-19 transmission. We can be infected and transmit the disease since we are carriers," he stated.
Hence, Amin is optimistic that the people would be able to understand the current pandemic situation and be heedful of the appeal to worship in their respective homes, especially during Ramadan.

Related news: Jokowi confirms no government ban on worship during COVID-19 pandemic

Related news: Sixteen health workers contracted COVID-19 in Probolinggo
Close
EDITED BY INE
Reporter: A063
Editor: Fardah Assegaf
Copyright © ANTARA 2020